A young James Baldwin sits cross-legged, regal purple shirt and socks and bold-patterned neckerchief popping from his dark suit. The American novelist, playwright, essayist, poet, and civil rights and gay rights activist, gazes in the direction of an empty chair to the viewer's right, an unlit cigarette, a ubiquitous prop throughout his life, lingers in his right hand, resting on his knee. He's turned away from a typewriter, half loaded with a sheet of paper ready for his thoughts, on an end table to his left. Despite the busy background, Baldwin's prominence calls out in his formidable pose.
This My Baldwin, a photomontage and digital collage on premium archival paper, by Najee Dorsey, depicts the elegant flamboyant charm that defined Baldwin as much as his celebrated writing and activism.
Some 20 works by Dorsey will go on view next month at the Ohr-O'Keefe Museum of Art in Biloxi, Mississippi, the first exhibition including a wide array of mixed-media works, photomontage, and sculpture by the Georgia-based artist who was born and raised in the Mississippi Delta.
The upcoming solo show, which runs through April, is among the many recent accomplishments for Dorsey, founder and CEO of Black Art in America (BAIA), which in its tenth year is experiencing its greatest successes.]
In the darkest times amid a deadly global pandemic and escalating awareness of rampant, institutionalized racism and police brutality of Black people throughout the nation, BAIA has thrived, thanks in part to its consistent online presence over the last decade to provide thousands of hours of free educational content.
"We have been able to leverage our platform and engage new eyeballs on African American art, as well as build through Patreon and art sales," said Dorsey. "We had a lot of people who never thought about where they bought art from. A lot of what is happening with the crisis and the killing of unarmed black people makes people think."
"Terrence" Alfred Conteh, intaglio on copper
Underscoring its growing impact on the evolving Black visual arts community and its commitment to preserving, chronicling, and educating people about Black art history, BAIA gifted 15 works of art by prominent Black masters and contemporary African American artists to the Columbus Museum in Columbus, Georgia.
"Despite everything, we've had a great year as a company and my wife, Seteria, and I want to share our abundance and our love for the works we've collected over the years with deserving public institutions like The Columbus Museum," said Dorsey. "We are excited about doing even more of that moving forward."
Featured among the donations is Terrence, an intaglio on copper portrait by Alfred Conteh, whose work explores the social, economic, educational, and psychological struggles of the African diaspora in the South. The broad reaching gift includes works by Richard Mayhew, Richard Hunt, Kerry James Marshall, Robert Colescott, Elizabeth Catlett, David Driskell, Robert Pruitt, and Delita Martin.
"The Dorsey gift to the Columbus Museum of Art is significant in that gifts like these continue to make their way to major institutions from Black collectors. For decades Black collectors were the primary foundational support for Black artists, just as Black scholars were the foundational base for Black art history. Beyond the fact that the works reflect the artists acumen, they reflect that history as Dorsey's Black Art in America is a leading repository for Black art, Black artists, and collectors alike," said Dr. Kelli Morgan, a veteran curator and a critical-race cultural historian who specializes in American art, especially African American art of the 18th and 19th centuries. She recently joined BAIA as a scholar in residence.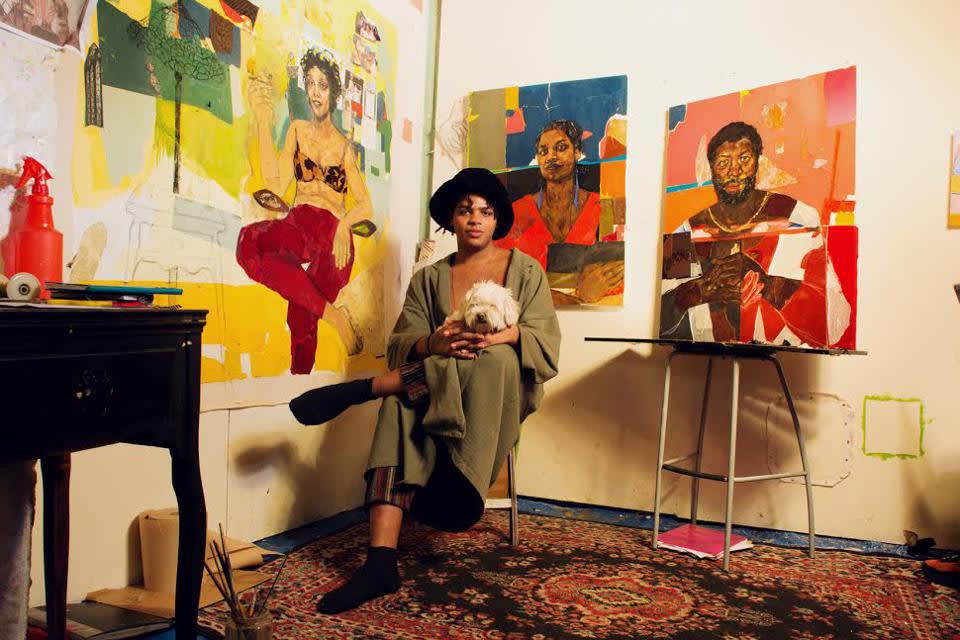 Khalif Thompson. Zadig & Voltaire celebrate artist Khalif Thompson "Art is Hope" KEVIN ARANIBAR MOLINA © BLACK ART IN AMERICA™
Extending its reach well beyond the art world, BAIA partnered with Paris-based Zadig & Voltaire, a global luxury fashion brand known for its rock-and-roll-inspired casual attire and accessories, as part of its Art Is Hope campaign to fund COVID-19 relief efforts and support independent artists. Zadig & Voltaire donated 100 percent of proceeds from one of its in-demand fashion collections to BAIA for a two-month period, and funded the hire of educators to advance Black art education programming.
Dorsey collaborated with New York City-based artist Khalif Thompson, and will carry the Art is Hope campaign into 2021 with New York City-based artist Daphne Arthur and Virginia-based mixed media artist, master printmaker, lecturer, educator Steve Prince.
"As a result of (Zadig & Voltaire's) support, we were able to implement programs where knowledge meets arts (to create) really dynamic programming," Dorsey. "We were already implementing it before COVID. We were really interested in finding new ways to engage an audience and be informative."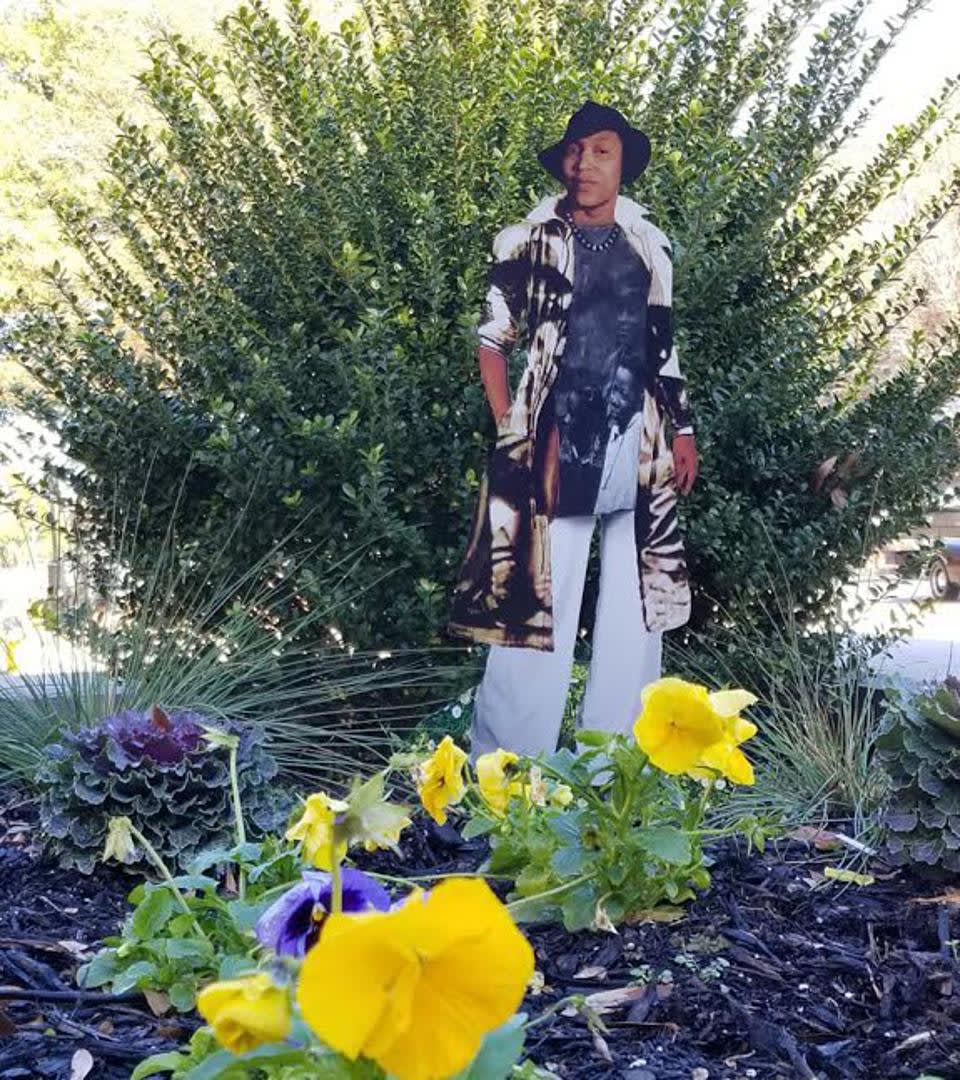 "Zora" BAIA's Garden Art for the Soul NAJEE DORSEY BLACK ART IN AMERICA™
In its third year, BAIA's Garden Art for the Soul (GAFTS) project in conjunction with the 32nd annual Zora Neale Hurston Festival of the Arts and Humanities in Eatonville, Florida, far exceeded previous years' revenues. GAFTS focus on decorative yard art was bolstered by sales through key licensing deals with well-known Black artists including Charly Palmer, Frank Frazier, Stacey Brown, Phyllis Stephens, and Sonja Griffin Evans, whose work highlights cultural legends such as Harriet Tubman and Muhammad Ali, and supports the Black Lives Matter movement.
"We've really thrived during the pandemic. It's been our best year yet. So many people are looking to connect with nature," said Najee. "Garden Art for the Soul was something people really resonated with."
BAIA is donating proceeds from the sale of Zora Garden Art to a program that benefits school children in Columbus, Georgia, as well as the Zora Neale Hurston Festival. "We're hoping to cut a sizable check of around $10,000 to be split between the two organizations."
After a short time based in Columbus, Georgia, BAIA purchased a 4,000 square-foot commercial space on a 0.7 acre parcel of land in Atlanta to return to its original location.
"We're looking for that place to be our headquarters and sharing aspects of the company's personal collection." said Dorsey. "We anticipate it will be a real beacon."